A technology investor who launched a company dedicated to the production, research, cultivation, processing, and distribution of the highest quality medical cannabis for the pharmaceutical industry has spoken of his plans for the future.
Their production farms are in the European Union and in Africa with over 40 hectares of land acquired in Portugal.
Maximillian White's team is entering the market with years of experience in the field with a goal to contribute to the research and development of medicines, focusing on improving the quality of life of patients.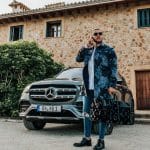 He says the team was carefully selected from individuals with a desire to make a difference in the market with innovative products from pharmaceuticals to the development of new products that combine nature with technology.
They have already started the development of technology that will enable high spending private clients to order cannabis tailored to an individual's DNA for medical benefits.
He hopes that, within five years, his company will become the largest European producer in the industry with Deloitte valuing his business at more than £3.5 billion. He wants his crop to set the benchmark for the highest quality standards in the world and be the "go to supermarket" for pharmaceutical companies.
The use of Medical Cannabis is still quite restricted throughout the EU and even here in the UK, what drew you to this industry and why do you think now is an opportune time to get involved?
MW: "I think the use of medical cannabis and the laws surrounding it have completely changed over the past five years. Especially with the recent historic ruling by the UN that cannabis is now classed as a medicine, the cannabis industry will only now grow exponentially.
"A friend approached me about four years ago with the idea that Cannabis and cannabinoids for the medical industry would be the next big thing. It was already making some noise a few years ago with CBD drops and CBD-infused consumable products starting to hit the market.
Initially, a medical cannabis company, we are dreaming up ways of how Cannabis can be infused throughout our consumers' lives
"We hired a financial advisor, Deloitte, to project our revenue as a company and they evaluated it as worth well over £1 billion. With the newly announced regulation and classification change by the UN and also with the recent news that Alphria and Tilray merged to create the largest global cannabis company, we couldn't have had better timing."
Will your company focus more on CBD products or are you planning on offering THC variants as well? If so, will you be looking to work with health services such as the NHS here in the UK as a regulated supplier?
MW: "Yes. Our aim is to work with the NHS and the UK as a regulated supplier. Our initial focus will be on medicinal cannabis growth for the pharmaceutical industry, CBD products will come later. We really want to provide cannabis for the health industry which is why we have university experts and biologists on our team."
What market segments have you identified and who will be your main customer base? How do you see this segment expanding?
MW: "Our main customer base will initially be European pharmaceutical companies as we will adhere to their regulation standards. Our land is based in Portugal as well, so distribution throughout Europe will be our first plan of action.
"Initially, a medical cannabis company, our team are dreaming up ways of how Cannabis can be infused throughout our consumers' lives.
"From bespoke cannabis strains created to individual DNA breakdown, cannabis-infused truffles (which one of our agriculturists is keen to try out), to investigating more in the technological possibilities like using 3D plant models and investing in research in Meditech."
Currently, you are preparing to launch a medical cannabis company with farms in Europe and Africa. What draws you to become a farmer? Are the farms growing crops already? 
MW: "We are developing our crops now with pre-orders from pharmaceutical companies in Europe. It is a time-inducing project so we expect to be one of the biggest medical cannabis providers in the next five years or so.
"What drew me to the Cannabis business was the potential growth potential I saw a few years ago. With the Alphria-Tilray merger and the UN ruling that cannabis is now a medicine, these December 2020 announcements couldn't have come at a better time for my business venture."
This year is your big 40. What made you combine nature with technology? What is the ultimate goal of being involved in the research and development of medical cannabis? 
MW: "As one gets older, health is the forefront of decisions and life planning. The medical cannabis investment seemed like a natural fit for me to get involved with. Medical Technology is a huge investment sector and continues to grow, especially with the impact of COVID-19.
"People want to enhance the quality of their lives and extend them. As humankind have found solutions to battle viruses and pandemics, the next step is to naturally better the quality of our lives and extend our lifelines so we live longer and better."
What has been your biggest business success so far?
MW: "Investing in tech and app companies."
Where do you see yourself in 2021? 
MW: "In 2021, I see myself with a marijuana-backed cryptocurrency as I think it's the way forward with our track and trace system. I hope to take my cannabis company to more investors so I can step off the gas a bit and spend more quality time with my children.
"Although I love to control and manage my businesses, I feel the quality of my life is at its highest when I get to spend time with my family."
The interview was contributed